Maddy Dubelko
Major: Horticulture
Graduation: May 2019
Arboretum Start Date: Spring 2017
I always was obsessed with gardening and plants, and I wanted to know how to take care of plants and how to make them look better. So I decided to major in horticulture at Purdue. Around campus you can usually find me either in the arboretum office or driving around on the arboretum's solar powered golf cart. I enjoy working for the arboretum because it helps me keep my plant identification skills sharp,  hone my design skills and educate other students about the plants on campus. After I graduate Purdue I plan on attending graduate school.
Corinne Lucas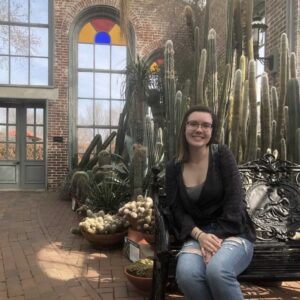 Major: Landscape Architecture
Graduation: May 2022
Arboretum Start Date: Spring 2018
Growing up, my family and I would always visit the Indianapolis Museum of Art. My favorite part of the day was always walking through the gardens. I loved how peaceful and beautiful they were regardless of the style of garden. Whether it was the more formal gardens or the untouched woods, I was fascinated. It wasn't till I came to Purdue that I found Landscape Architecture. It combines my love of art and design with my love of nature and the outdoors and proves to be a perfect fit. Being a part of the Arboretum has taught me to appreciate nature even more and has shown me the beauty of its wide diversity. In the future I hope to continue with my education and someday design beautiful spaces for all kinds of people to enjoy.