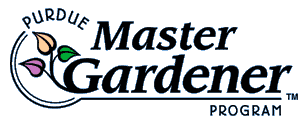 About the Purdue Master Gardener Program
The original Master Gardener program was created in 1972 in Seattle, Washington in response to the overwhelming demand for home gardening information. Indiana's program began in 1978 with 4 participating counties. Currently, over 85 Indiana counties have active Purdue Master Gardener programs. The purpose of the Purdue Master Gardener Program is to teach people more about growing plants and to more effectively extend information related to plants. Its specific aim is to provide information and technical assistance in the areas of gardening and home horticulture through the use of trained and certified volunteers.
What is the Purdue Master Gardner Program?
The Purdue Master Gardener Program is an integral part of the Purdue University Cooperative Extension. For more information visit the Purdue Master Gardener Website.
Why Should I Become A Purdue Master Gardener?
You can grow in several ways when you become a Purdue Master Gardener—the ways you grow and how far you go are up to you! Increase your knowledge on a wide array of gardening subjects through a structured training program. This increased knowledge will give you the skills—and the confidence—to teach others in your community, either one-on-one or in group settings.  Sharing your gardening knowledge with others will help improve the quality of life in your community.  And, for certified Purdue Master Gardeners, a five-week leadership development training is available to prepare you for leading activities in the Purdue Master Gardener Program or as a springboard to other forms of community leadership.
How Do I Become a Purdue Master Gardener?
Determine the location of a Purdue Master Gardener Training Session in your area by contacting your county Extension office. You may also contact, John Orick, Purdue Master Gardener State Coordinator (orick@purdue.edu), to find out where the program nearest to you will be held.  You will complete an application form and/or enrollment form and return it to the local county Extension Office. Enrollment is limited. After being accepted into a training session, you must attend a series of weekly classes, each lasting 3 to 4 hours. Achieve rank of Purdue Master Gardener Intern by completing required training and passing an exam with a score of 70% or above.  Purdue Master Gardener Interns are required to volunteer a minimum of 35 hours to be certified as a Purdue Master Gardener. For more detailed information about the Purdue Master Gardener Program, please review Purdue Extension Publication HO-184 (PDF 440K) – Revised 10/12.
How Do I Become a Junior Master Gardener?
Junior Master Gardener (JMG) Groups are organized through public/private schools, home school groups, and after-school programs. Many groups utilize the program in their 4-H clubs, YMCA activities, Girl Scout and Boy Scout badge work. For more information contact your local County Extension Office, or your Indiana State JMG Coordinator:
Dr. Kathryn Orvis
(765) 494-8435
orvis@purdue.edu
What topics are covered in the program?
After acceptance into the Purdue Master Gardener Program, participants receive training in the following areas: plant science, plant nutrition, soil science, plant disease diagnosis/control, insect pest diagnosis/control, weed identification/control, pesticide safety/pesticide alternatives, woody ornamentals, principles of landscape design, herbaceous ornamentals, home lawns, and animal pests. Additional training may include these areas: vegetables, home fruit production, indoor gardening, plant propagation and yard waste management.