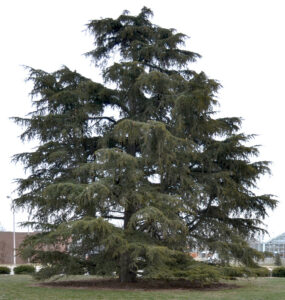 The walking tour outlined here consists of three trails. Each trail is designed to show the diversity of trees on Purdue's campus. As you visit our trails you will notice that each tree is identified by a small wooden post and a QR code to give smartphone users additional educational information.
Online and Mobile Tour Links
The Blue Trail starts at the Visitor Information Center at Purdue Memorial Union and takes you around the north part of campus.
The Gold Trail starts at the Visitor Information Center and guides you through the center of campus.
The Green Trail starts at the Grounds Services Building, just west of Lilly Hall, and leads through the south campus area.
Printed Tree Trail Information
View the Trees of Purdue Brochure (pdf)
Printer-friendly Version of the Tree Trails (pdf)


A symbol of the state of Indiana points out the trees that are profiled in the booklet Fifty Trees of Indiana by T. E. Shaw.
Enjoy the Purdue trees and your day on campus!